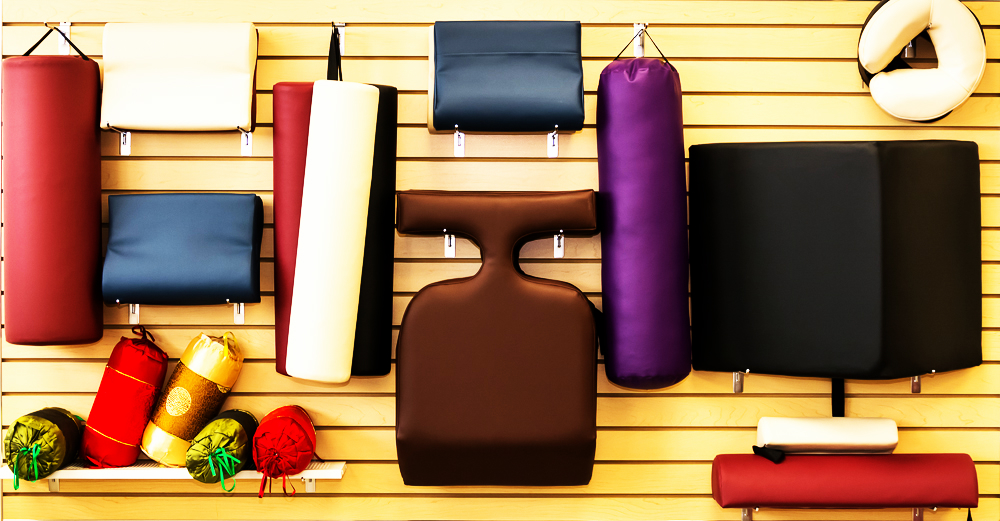 16 Feb

Massage bolsters and accessories: find the right one for every need!

Support can mean everything during a massage, and bolsters are exactly the type of massage accessories you can rely on for this purpose. Our short guide is a primer on the different kinds of bolsters, with their different advantages and the body parts for which they're most appropriate.

Round and semi-round
Bolsters come in three basic different shapes: a full cylinder, a half one and three quarters. Full, round bolsters tend to be larger, and they're especially good for large joints or articulations, such as the client's knees. Semi-round bolsters are usually smaller, and they don't roll around on the table. They're well-suited for smaller joints and articulations, and the lower back. Three quarters size are a great compromise if you want to work on the patient's legs, but have problems with the bolster moving during treatments, or if you feel that semi-round bolsters are too small and rounds ones are too large: three quarters might be just right! They're also great for working on the neck and ankles.
Foam or buckwheat
Massage bolsters come in different degrees of firmness, and therefore offer different levels of comfort and support. Generally, the firmer the bolster, the more support it offers, making firm foam bolsters more appropriate for therapists, whereas the cushy, soft bolsters are great for home use and for relaxation massage.
Buckwheat hulls massage accessories offer a range of therapeutic properties, and excellent support. They are hypoallergenic, remain at a constant temperature, and adapt to the body's contours. Though more popular in meditation pillows, they're now also used for bolsters.
Length
Bolsters usually come in two different size ranges, depending on the body part you want to work on. If you want to support both legs or the lower back, then a 25" to 30" bolster is more appropriate, while if you prefer focusing on one leg, ankle or wrist at a time, a 10 to 15" bolster will be ideal.
Pillows and cushions
Though more popular for meditation, pillows and cushions can also make great massage accessories. Buckwheat hulls pillows can support your clients' bodies and offer additional comfort, and they come in a range of sizes: you can use them for your clients' necks and backs.
Angle bolsters
Great for back support, angle bolsters are most frequently used in physiotherapy. Depending on the patient's position, they can relieve pressure off the lower back and shoulders, and grant the practitioner increased access to the client's upper body.